New Home, Not a New Seller
We've been selling handmade jewelry on Etsy since 2016, with over 20,000+ sales and 4,500+ 5-star-reviews you can trust us. Check out our reviews on Etsy!
Check Etsy Reviews
Our Happy Customers
These are the most adorable rings I own and I absolutely can't wait to give one of them to my boyfriend. They're perfect, and I will be buying from this shop again in the future!
Item was purchased as a gift for my sister and she absolutely loved it! She says the quality of the work definitely shows through. Already one of her favorite pieces to wear. Thanks so much!
Perfection! Expectations exceeded. The three "cards" I received varied from high relief to low, and the quality was breathtaking and consistent. Truly? This was an amazing find and exactly what I wanted. 20/10 I will be back!
These keychains are beautifully made!! I love them and would definitely order again in the future! I love that you can tell they are handmade but still so neat and nicely made.
View All
The best of the best, here you'll find our top selling products that people love (and we love too)! Not sure what jewelry piece to get for your best friend, family, or partner? Take a look at these best selling products to get the best gift ideas.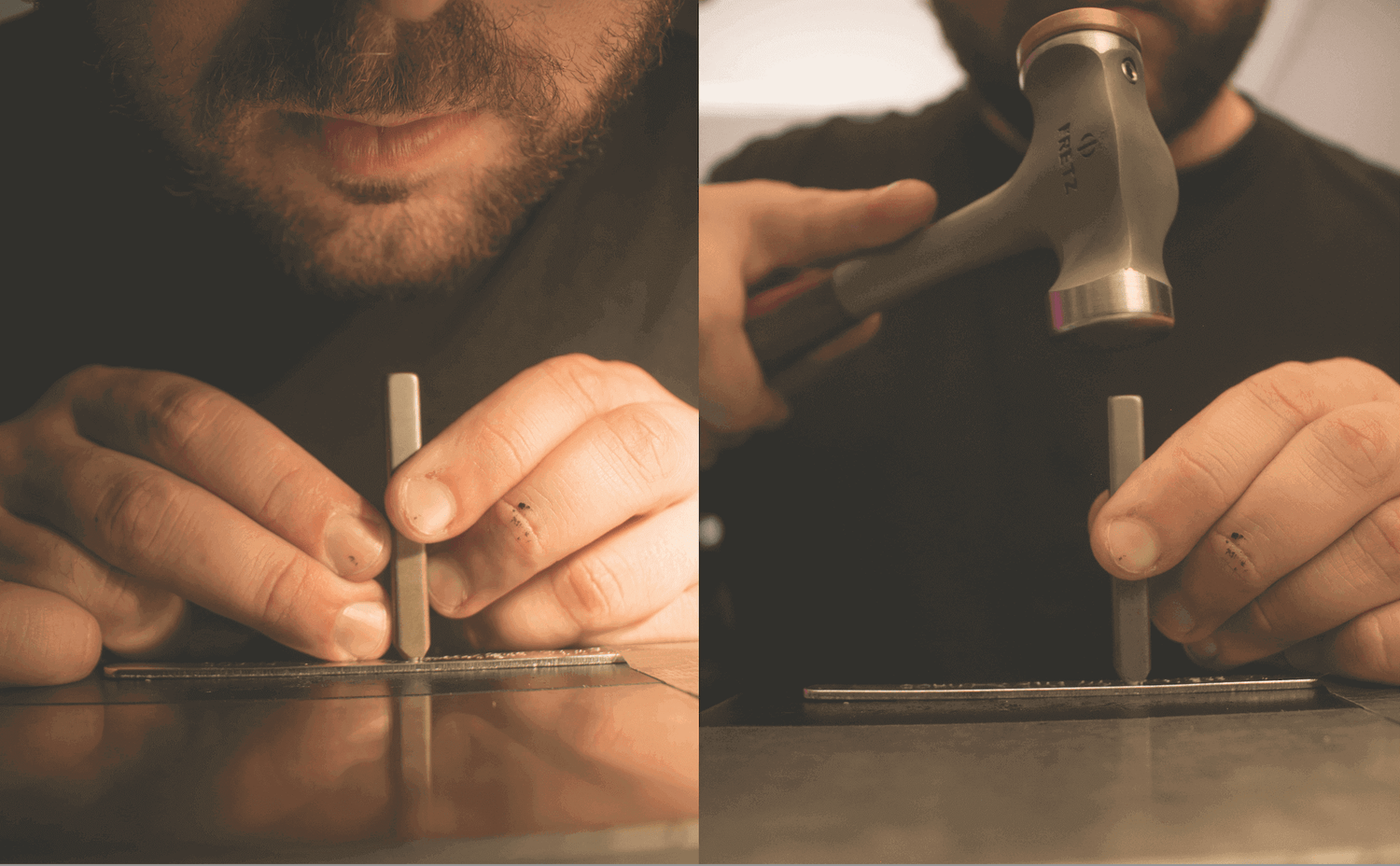 Made with Love
All items are handmade with love by Vinnie, most of the jewelry is metal stamped letter by letter and design by design.
Read Our Story
Couples Jewelry, Best Friend Gifts, & Tarot Jewelry
Personalized jewelry is the best gift to give someone to remind them you're thinking of them, for a special occasion, or for no reason at all. Heck, why not get yourself some handmade jewelry as a great gift? We think you deserve it! Nowadays there's so many places to buy personalized jewelry so you may be wondering why you should choose buying from Veeaien Designs. The reason why is you'd be supporting a small business based out of New York that has a dream of making handmade jewelry and gifts that touch peoples lives. I truly love hearing the stories of how my jewelry pieces touched my customer's lives.
Our most popular designs are our matching rings for couples, best friends, and sister jewelry. Our pinky swear ring designs were among the first on the market, and our pinky swear matching sets became a best seller for good reason. If you've seen a skeleton pinky swear design anywhere online, just know that it was first found at Veeaien Designs. Having the first single skeleton pinky swear ring set and double skeleton pinky swear ring set, our designs are truly unique and loved by many. So much so that our most popular double skeleton pinky swear design is now available on a matching necklace set, which can be great best friend necklaces. The great thing about our matching pinky swear ring sets is they're perfect reminders of our loved ones no matter where they are which is why they're the perfect gifts for long distance couples as long distance relationship gifts.
It's a common misconception that jewelry is only for women, but our designs are unique and eye catching, and can be perfect promise rings for him. Our matching ring sets make awesome male promise rings whether your partner is close or you have a long distance partner. Not only do we have silver and gold rings, we also offer black matching ring sets out of stainless steel, which can make the perfect promise rings for men. We don't only sell matching ring sets, we sell a variety of other items like long distance keychains, floral jewelry, dangle earrings, personalized keychains, custom gold necklaces, birthstone rings, and other unique rings and necklaces.
Long Distance Relationship Gifts
Whether you're in a romantic relationship with your long distance partner, are long distance with your best friend, or are long distance with your sister or brother, we have the long distance gifts for you. Our boobs ring set is perfect for sisters or best friends, our pinky swear ring set is perfect for couples, siblings, or best friends, and our matching butterfly ring set is perfect for anyone, no matter the occasion. Not only do we offer a variety of matching ring sets, but we also offer state to state distance keychains of all fifty US states, Washington DC and Puerto Rico. Additionally, we can also make long distance keychains with different countries. These countries include Canada, France, Italy, Mexico, Spain, Australia, England (United Kingdom), Africa, China, Ireland, Germany, Portugal and New Zealand.
Best Friend Birthday Gifts
Offering such a wide variety of unique jewelry designs, the best friend birthday gift ideas are endless at Veeaien Designs. We have a variety of jewelry pieces and gifts to choose from no matter what your best friends' interests are. Some of our more popular best friend birthday gifts are our adult mood rings, they're high quality and made of stainless steel so they'll never turn your skin green. Not only that, but they're durable enough for daily wear. No longer are the days of low quality quarter machine mood rings, we offer high quality signet mood rings and full band mood rings, both with color changing abilities for more than 10 different colors to match your mood. Our matching ring sets are also great for best friends, the most popular is the boobs ring set. Looking for a keychain for your best friend? Our custom name sunflower keychain is the perfect gift for that exact situation. Is your best friend a little witchy and mystical? Our tarot card necklaces or tarot card earrings are the perfect gift. Looking for a more dainty gift for them? Take a look at our popular heart chain link ring.
Tarot Jewelry
Over recent years tarot jewelry has become extremely popular, and we understand why! More and more people are learning how to read tarot and are using tarot cards from The Major Arcana and The Minor Arcana to guide them in their everyday lives. We currently have tarot card necklaces available in sterling silver and gold filled of all 22 cards from The Major Arcana, and we carry 19 cards from The Minor Arcana. These designs are also available in tarot card earrings which are perfect dangle earring for a special occasion or everyday wear. We also offer round tarot card necklaces of The Major Arcana, which are the perfect tarot amulets and tarot medallions. The difference between our tarot card jewelry and most that you'll find online is ours are handmade with high quality materials from start to finish, not made in a factory like our competitors. We also have a variety of unique designs that are exclusive to Veeaien Designs and won't be available on jewelry anywhere else. These designs are our tarot card inspired zodiac necklaces. Each of the twelve zodiacs has an association with a card from The Major Arcana which truly represents the zodiac sign. Not only do we have these exclusive tarot inspired zodiac necklaces, but we have regular zodiac necklaces for all of the twelve zodiac signs.
Additional to the already mentioned jewelry options, we have a variety of unique custom jewelry for you to choose from. Take a look at our full collection of affordable and high quality unique jewelry made right in New York.